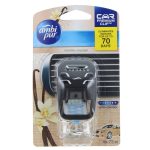 Ambi Pur Premium Clip Car Air Freshener Vanilla Voyage 7.5 Milliliters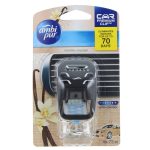 Ambi Pur Premium Clip Car Air Freshener Vanilla Voyage 7.5 Milliliters
$7.90 inc. GST
$7.90 inc. GST
Ambi Pur Car Premium Clip Little Air Freshener Scent Vanilla Voyage
A fresh Floral Fragrance with sweet vanilla notes
Description
Ambi Pur Car Premium Clip Little Air Freshener Scent Vanilla Voyage
A fresh Floral Fragrance with sweet vanilla notes
Product Description:
Doesn't just mask, but truly eliminates odours.
Eliminates odours for up to 70 days (On low setting, based on average driving and ambient conditions).
Fresh floral fragrance with a hint of gentle green leaves.
Attaches easily to car vent and allows you to select the level of intensity to control how much freshness is released.